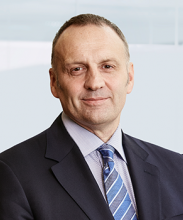 John holds a portfolio of complementary non-executive board roles. In particular, he chairs KCG Europe, a brokerage business which is part of the Virtu Financial group, and Open Door Capital Management, a Greater China Asset Management company, as well as acts as Non-Executive Director of sQuidcard Limited, a UK and African Payments business in the education and aid sectors. John previously chaired the board and advisory board respectively of two former ASX-listed funds, the Asian Masters Fund (AUF) and Emerging Markets Masters Fund (EMF), the portfolios of which were managed by the Investment Manager.

Prior to his current roles, John was Managing Director and Member of UBS Investment Bank Board. Over the course of his 24 year career at UBS and its predecessor banks, John helped to build and then led UBS' leading Asian Equities and banking business based in Hong Kong, before returning to London to assume various senior management roles in the Global Equities business.

Throughout his career, John has had significant experience working with a wide range of Financial Regulators, including a 3 year stint as a member of the European Securities Markets Experts Group advising the European Commission on new regulation.

John holds a Master of Arts with honours from Oriel College, Oxford University, majoring in Philosophy, Politics and Economics.