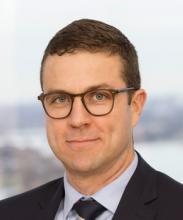 Liam joined New Energy Solar as Director – Investments in March 2016, to lead transaction origination and execution activities. Liam has over 14 years' experience in M&A, corporate and business development, projects, and commercial management in the energy, infrastructure, mining and agribusiness sectors.   
Prior to joining NES, Liam was a senior member of the International Development team at Origin Energy focused on the investment and development strategy for utility-scale solar, hydro, and geothermal projects in Latin America and South-East Asia. Liam's previous roles have included General Manager of Commercial Development at Aurizon, Commercial Manager for the Northwest Infrastructure iron ore port joint venture, and Project Manager at Orica, focusing on large scale mining-related infrastructure and manufacturing projects. Earlier in Liam's career, he worked in the agricultural commodities sector with AWB Limited.
Liam has a Bachelor of Agribusiness and Master of Science from Curtin University, and a Master of Business Administration from the University of Melbourne.