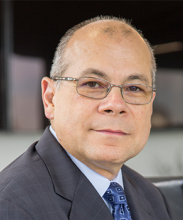 Paul joined New Energy Solar as Asset Manager in November 2017 to lead asset management activities.  He has more than 37 years' experience in a variety of operational, engineering, construction, projects, business development and commercial management roles within the power generation, consulting and insurance industries.
Prior to joining NES, Paul was Chief Operating Officer and Senior Vice President at Onyx Renewable Partners, where he was responsible for developing and leading the asset management function for the portfolio of commercial and industrial solar sites. Paul has also served as Vice President of Asset Management at OCI Solar Power, where he constructed and operated large utility-scale solar facilities.  Beyond solar renewables, Paul's operational and engineering experience within the power generation industry includes coal- and oil-fired utility plants, aero-derivative cogeneration facilities, district energy, and control system design and development for nuclear power plants in the US and China. He is a US Navy veteran, having served 14 years on submarines as a qualified nuclear engineer officer.
Paul has a Bachelor of Arts summa cum laude from Hiram College, a Master of Science in Electrical Engineering with distinction from the Naval Postgraduate School and Master of Business Administration from Xavier University (Ohio).