For 69 years BP has published the BP Energy Outlook and the accompanying Statistical Review of World Energy1 (the Statistical Review). This year the Statistical Review was released on 17 June while the BP Energy Outlook has been delayed to third quarter 2020 as a result of COVID-19. These publications have consistently provided credible data on the world's production and consumption of energy, highlighting emerging trends in energy, and this year is no different.
The 2020 Statistical Review shows that the growth in renewable energy in 2019 accounted for 40% of the global growth in primary energy, more than any other fuel. Contributing an additional 3.2 exajoules (EJ) to global power generation, renewables have grown to account for 10.4% of global generation, surpassing the share of nuclear for the first time. Both natural gas and oil consumption grew, with a record increase in LNG (liquefied natural gas) exports globally. On the other hand, coal's share of primary energy fell to its lowest level in 16 years (27%) after consumption fell by 0.6%, the fourth decline in six years. Coal still accounts for 36% of global electricity generation and increases in consumption were recorded primarily in China and Indonesia, but significant decreases were seen across the OECD bloc.

China stood apart with its energy consumption accelerating in 2019, whereas energy market growth declined in the rest of the world, particularly in the US, Russia and India. China contributed the largest increment to demand for each individual source of energy other than natural gas, where it was narrowly surpassed by the US. By country, China contributed 0.8 exajoules to the growth in renewables, followed by the US (0.3EJ) and Japan (0.2EJ).
Slower growth in energy demand and a shift away from coal toward natural gas and renewables led to a slowing in the growth of carbon emissions. They grew 0.5%, less than half the 10-year average of 1.1% and considerably lower than the growth seen in 2018 of 2.1%. Only two regions, North America and Europe, have achieved reductions in total carbon dioxide emissions over the previous ten years.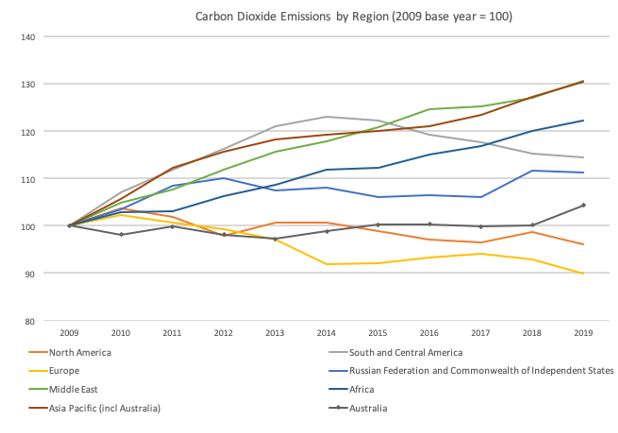 In 2020, the work of BP on the Energy Outlook and Statistical Review coincides with the appointment of a new CEO, former head of BP's upstream division, Bernard Looney. Appointed on 5 February 2020, Looney quickly launched a program to restructure BP for the future of energy titled "Reimagining Energy"2, which included the goal of becoming a net zero carbon company by 2050.
Both the data and BP's new ambition encapsulate the scale of the energy transition underway and its future direction. Under the program, BP aims to make absolute reductions in its oil and gas extraction businesses amounting to 415 million tonnes of carbon, an amount almost equivalent to the total emissions of the UK, the world's sixth largest economy. While Looney claims that this path represents the right thing to do, he also outlines the enormous opportunity in this change.
"We want to change because it is the right thing for the world, and it is a tremendous business opportunity for BP."3
Embracing the future direction of energy would enable BP to share in the significant growth in investment in new energy technology. Currently, over US$300 billion is invested in clean energy each year. If the world is to limit global warming to 2 degrees, an investment of US$1 trillion per annum is required, to limit global warming to 1.5 degrees, US$2.5 trillion is required annually4. Further, increasing globalisation and urbanisation present opportunities to work with airlines, industry and government, many of which need energy solutions to meet their own commitments to achieve lower carbon commercial activity, industrial processes and waste and infrastructure management.
BP, Looney believes, is well placed to assist large energy consumers to bring the elements of new energy technology together to provide low carbon energy solutions. The company has a long history of development and management of energy projects across the globe and the management and systems to bring large and complex combinations of energy sources cohesively into operation. While the change in direction is bold, BP needs a bold gesture to turn around the perception that it is "a source of the problem [climate change], and worse, an obstacle to solving it", a charge Looney says he has heard from not only protestors, but also investors and staff5.
Looney is undaunted by the scale of the challenge claiming that BP has strong experience in new energy technologies. BP already operates the largest EV-charging network in the UK, is an equal partner in the world's second largest sustainable sugarcane bioethanol producer, has operated a significant wind business in the US for 12 years and is an equal partner in BP Lightsource, a global solar developer. Additionally, as he argues in the introduction to the 2020 Statistical Review, "The zero-carbon energies and technologies exist today – the challenge is to use them at pace and scale"6.
Criticism has been directed at Looney for his positioning and ambition from both sides of the argument7 – green groups don't believe the goal is sufficient or specifically detailed enough to be meaningful, while investor groups worry that the transition to renewable energy projects will not deliver the same level of returns as oil and gas projects.
In response to the first category of these charges, Looney says that he has set the target that he would like the organisation to achieve saying "in order to start a journey, you need a destination" and that the new management structure and team that he announced at the same time, deserves time to work with their divisions, and together, to detail the path to the target. He undertook to provide more details on the path to net zero carbon in September of this year8.
In relation to returns, Looney points out that investment returns in oil and gas over the last decade have been neither consistent nor, at times, attractive9. Similarly, Derek Brower writes in the Financial Times, that the Trump administration came into office vowing to foster fossil fuel development but "Since Mr Trump took office in 2017, the S&P 500 has risen by 40 per cent but its oil and gas index has halved"10.
Additionally, the risk attached to oil and gas projects is fundamentally different to that attached to renewable energy projects. Analysts view the risks associated with exploration, development, and bringing an oil and gas resource into production as "binary", that is, drill or don't drill11. There are many elements in the early stages of oil and gas projects that can lead to such projects not proceeding to production; meaning capital invested is largely unrecoverable. Most recently, in response to climate change, the risks associated with social and judicial challenges to oil and gas developments, and even finished projects, are increasing and making the building of oil and gas infrastructure "immeasurably harder"12.
In contrast, depending on the stage of investment, many renewable energy projects have infrastructure-like characteristics that offer potentially greater consistency in returns when compared to the risk profile and volatility evident in oil and gas, and the generally much larger capital investments required. Bernard Looney noted at BP's AGM in May that this has been particularly evident over this period of COVID-19 where the increasing uncertainty surrounding the future demand for oil and volatility in oil markets contrasts markedly with the stable returns from some renewables – to which capital has continued to flow at a time when some oil contracts have turned negative, for the first time in history13.
While BP's new program appears to represent a significant change in direction, many other fossil fuel producers have announced or signalled similar changes in direction or willingness to adjust to the new energy landscape. Spanish fossil fuel company Repsol has committed to zero emissions by 2050 and to diverting investment into renewable energy14. Similarly, French energy group Total SA15, Norwegian energy group Equinor16 and Royal Dutch Shell17 have all committed to net zero or specific targets to reduce the carbon intensity of emissions from operations and energy products, while US companies Chevron18 and Exxon19 have stated that they have "goals" to reduce emissions.
While the energy transition is apparent in the statistics noting the growth in low and no-carbon energy sources each year, its direction is indisputable in the positioning of the world's oil and gas giants as broader, lower emissions, energy companies. This bodes well for investors already participating in the decarbonisation of electricity and energy, and supports renewable energy becoming increasingly mainstream and attractive as an asset class.