On September 7, 2020 the Energy Security Board (ESB) released a consultation paper1 for comment that contemplates significant changes to the design of Australian energy markets. The impetus for the process is the changing energy landscape including the rapid uptake of solar power by households – more than 2.2 million Australian households now have solar power compared to 100,000 households a decade ago – and the progressive retirement of Australia's thermal coal generators. The paper acknowledges that "the current set of systems, tools, market arrangements and regulatory frameworks is no longer entirely fit for purpose and able to meet the changing needs of the system and customers".
Originally designed with thermal generators large enough to satisfy intra-state demand sending electricity through single-direction transmission and distribution networks to consumers, Australia's electricity system is forecast to become the most decentralized in the world2. In other words, as the ESB paper notes, "The National Electricity Market (NEM) of the future is very different to that of the past".
"the current set of systems, tools, market arrangements and regulatory frameworks is no longer entirely fit for purpose and able to meet the changing needs of the system and customers".
Chief among considerations in the consultation process is whether the current market settings provide sufficient confidence in terms of future prices and the role of government to induce the levels of private sector investment needed to develop resources to deliver secure, reliable and affordable electricity as thermal generation exits.
Current assessments of the age and capacity of the existing thermal generators indicate that approximately 61% of the generation fleet is likely to exit over the next 20 years. Uncertainty as to exactly when these retirements will occur, and whether there will be sufficient resources operating to replace their input, could have significant consequences for future electricity prices and security of supply.
This focus seems justified given the highly publicised difficulties experienced by many investors in new energy technology and renewable assets in Australia. Reports3 abound from the previous few years about problems connecting to transmission, poor transmission quality in areas like north Queensland, south-west NSW and north-western Victoria, and delays in connection that have resulted in the exit from the sector of numerous renewable developers and investors.
Further, the recent formation of a coalition of investors, the Clean Energy Investor Group4, including Macquarie Bank and the UK renewable operator John Laing Group, to lobby government, regulators and market operators for more permanent, reliable settings in energy policy to attract global institutional investment to green the grid also suggests that investment signals are not sufficient. Taking their cue from investment trends in the US and Europe, there is growing recognition among Australian institutional investors that the disruption in energy is inevitable and that it represents an investment opportunity. The Australian Energy Market Operator (AEMO) estimates in their 2020 Integrated System Plan (ISP) that the exiting thermal fleet could be replaced by 26-50 GW of new large scale variable renewable energy sources (in addition to existing, committed and anticipated projects), supported by between 6 GW and 19 GW of new flexible and dispatchable resources5. However, what is also becoming clear to investors is that the policy and regulatory environment in Australia is not conducive to achieving a smooth transition, particularly for investors.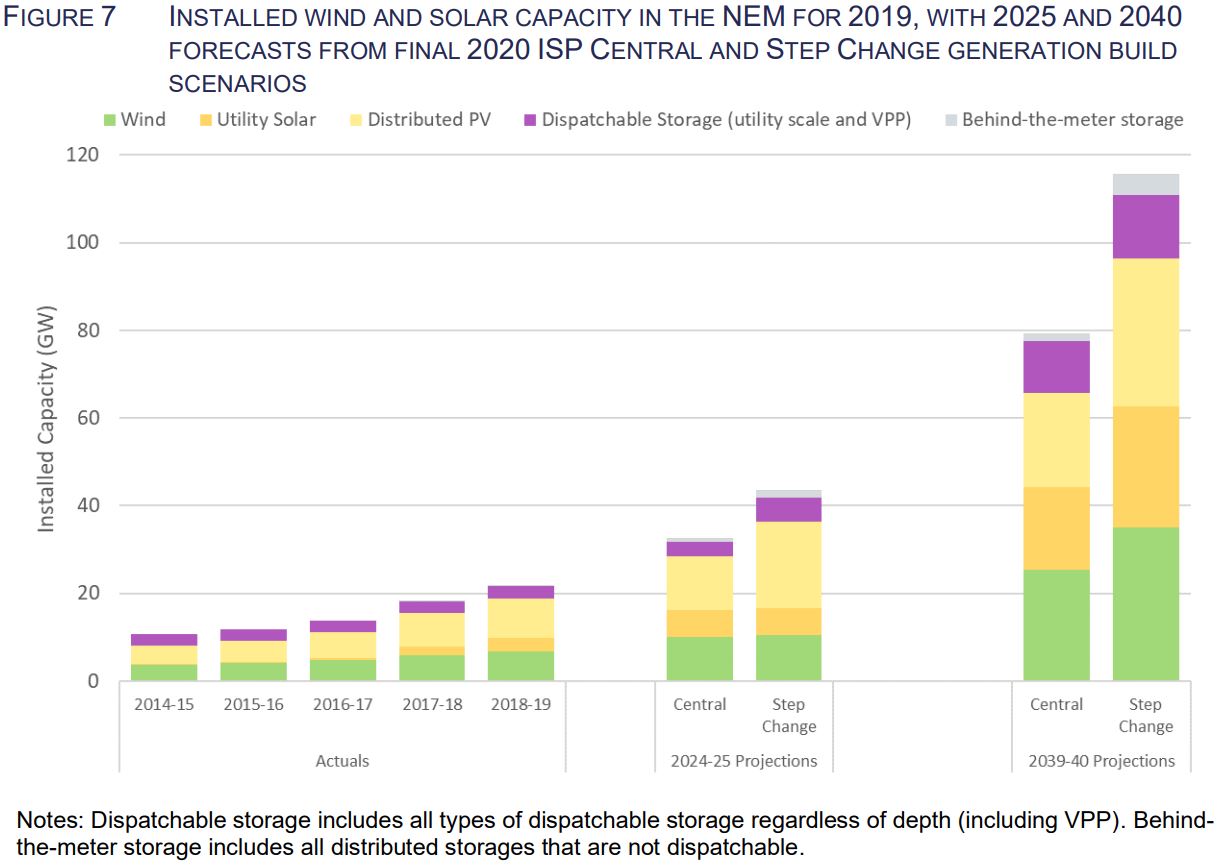 The ESB paper has articulated four key challenges that they are seeking to address through market redesign:
Meet consumer needs – those needs are diverse and changing and technology is offering opportunities to better meet those needs
Manage the variability inherent in more renewable power sources
Replace the energy and services provided by retiring thermal coal generation assets
Recognise demand flexibility in the market and integrate behind the meter energy resources like household solar
One of the fundamental changes that the paper contemplates as a means of meeting these objectives is the formation of a two-sided market. This represents a radical change from the current system and would enable electricity customers to participate in the National Electricity Market either as individuals or in partnership with retailers or third-party providers. Participation could be in the form of demand management, where consumers agree to exchange their load flexibility for cheaper overall supply, or as a source of power. Clearly, some aspects of this idea are already in place with retail customers with rooftop solar buying and selling power to their retailers and programs that amalgamate the loads from pool pumps and hot water systems and shift them, in aggregate, to cheaper parts of the day. A two-sided market framework would capitalize on the flexibility of demand and supply that household renewable energy could provide and would also better integrate this increasingly significant source of electricity.
For larger electricity consumers, those termed commercial and industrial users, engaging in a two-sided electricity market could potentially represent both an input cost and an opportunity to generate significant revenue. Increased flexibility in market design could see larger users receive incentives where their load was flexible or pay when they needed enhanced reliability and service.
Managing a market with a much larger number of participants that have a variety of needs and/or offer a variety of services requires greatly enhanced systems. Technology has evolved considerably and is key to enabling a myriad of electricity sources to be managed effectively, and also to provide the same flexibility as has been seen in supply to also be available for demand. In many instances, managing demand will be cheaper than wholesale generation.
While the system challenges are very significant, there is recognition that increasing proportions of renewable energy have the potential to drive down both emissions and supply costs. Capturing this potential, however, also requires market and regulatory settings to manage the variable nature of these resources and this needs to happen very quickly. Already the NEM includes 17GW of variable generation and that is forecast to grow to 27GW by 2025. In the context of total system demand of between 16 and 35GW, quickly adapting the system is imperative.
The timetable for change set out in the ESB paper categorises the deliverables into three stages, short term being 12-18 months, intermediate term for implementation ahead of 2025, and longer term for implementation after 2025. The near term changes will address the development of renewable energy zones and urgent requirements of the system to ensure security and supply in the face of rapidly growing household solar, while the longer term changes will address investment, thermal coal retirement and the development of markets specifically for services provided by distributed, renewable energy generation.
The development of renewable energy zones is underway in both New South Wales and Queensland and is seen as an immediate way of encouraging investment by addressing the much publicised transmission access and congestion problems, pending the implementation of more comprehensive transmission access reforms. Signals that direct investors to locate new generation in the places where the existing grid infrastructure can best accommodate them seem long overdue. This is particularly the case given the success of such measures in other jurisdictions like Texas where they were introduced 15 years ago by the state's legislature in 2005. The first zone in New South Wales in the state's central west region has already attracted 113 registrations of interest for projects totaling 27 GW and valued at $38 billion6.
The paper is very interesting in terms of its assessment of the challenges that the current Australian electricity market faces in a rapidly changing energy landscape, and also because of the scope of the changes that the process appears willing to contemplate. It is not envisaged that an entirely new design would be introduced at a single point in time. The ESB is aiming for all reforms to be evaluated together to ensure they lead to an integrated solution, with final recommendations on all reforms made by mid-2021 and required legislation and rules then developed and introduced over time. Together with the published work of AEMO such as the Integrated System Plan, it is very encouraging to see Australia's energy agencies moving to adapt Australia's energy system for the future.